About Bhai Pratap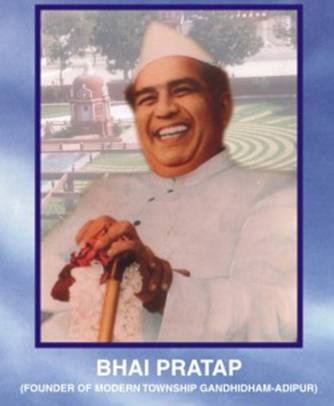 (THE FIRST MANAGING DIRECTOR OF
THE SINDHU RESETTLEMENT CORPORATION LTD., ADIPUR)
Pratap Moolchand Dialdas, later lovingly known as "Bhai" or "Bhai Pratap Dialdas" was born on 14th April, 1908 in Hyderabad, Sindh. Bhai Pratap hailed from a family known for its affluence. A connoisseur of fine arts, he was the most cultured man of his times among his fellow businessmen.
The dreamer, Bhai Pratap Dialdas was a freedom fighter of Sindh. He fought shoulder to shoulder with the likes of Pandit Jawaharlal Nehru, Vallabhbhai Patel, and Mahatma Gandhi his guiding light and guru. It was Gandhiji's request that post partition refugees of Pakistan be given suitable rehabilitation in India, that Bhai envisioned and realized the Gabdidham-Adipur-Kandla Complex on Kutch soil and waters – so akin climatically, geographically, and otherwise to Hyderabad and Karachi. The Maharao of Kutch in a grand gesture gave vast areas of land in the region for the purpose.
The partition of the county and the miseries that ensured first set him thinking along the lines of rehabilitating sindhis in a place where they would feel at home and more as if they had been totally uprooted from their motherland. And with what was born the vision of a township in Kutch. The ideal site because of its proximity, climatic and language wise, to Sindh as well as the natural harbor that it had which if developed could become a port equal if not greater in proportion to Karachi.
When the Government of India appointed a Committee to select a site for a major port on the western coast, it was Bhai Pratap who insisted on development of Kandla Port. Today, Kandla Port, a mere fishing Jetty is transformed into the second major Port of India. Bhai Pratap had established a small free trade area at inception, which is now a major Free Trade Zone, and ships from all parts of the world are berthed along the coastline.
The democracy of our country as well as public opinion which helps in laying down its firm foundation wil lsucceed only when our children receive proper and right type of education. Efforts are being made in the entire country towards this. In this connection, one such humble effort was made by an educational and cultural institution, The Gandhidham Maitri Mandal, Adipur, started by the late Bhai Pratap Dialdas when the township was established.
To date, numerous educational institutions and establishments have come, like the Tolani Group, Sadhu Vaswani International School Group, and Gandhidham had become the academic center of Kutch.
Bhai Pratap Dialdas, who thought of rehabilitation of displaced refugees of Pakistan in the aftermath of partition, requested Maharaja of Kutch for land and he got 18,000 acres, where a homeland for them was planned; The Sindhu Resettlement Corporation Ltd. was formed. A new township of Gandhidham-Adipur-Kandla came in existence. The work involved his completely and he had to give up his own business for the purpose.
With the assitance from Mahatma Ganhi, Sardar Vallabhbhai Patel, Pandit Jawaharlal Nehru, Acharya J.B. Kripalani, the ten President of Indian National Congress and first Chairman of The Sindhu Resettlement Corporation Ltd., Bhai Pratap Dialdas, the sould behind this great missionary work gave new shape to the township. To clean the desert where it was built, Bhai Pratap gave incentive of 25 paise to kill scorpions and 50 paise to kill snakes.
Today, the tri city Gandhidham-Adipur-Kandla boasts of its own airport and railways, its own schools and universities, and Kandla with the free trade zone in the country is a major port and offers great export facilities to the industries that have mushroomed there.
True to Gandhiji, in letter and spirit, he organized a colony for harijans where they would live free and unmolested. They continue to live in dignity of spirit even today thanks to this initiative.
Spirits of Bhai Pratap still continue to live in the people of this township.